Apply for the Plumbers and Pipefitters Local 94 JATC Apprenticeship
To join Local 94, you must meet the following criteria:
Be at least 18 years of age
Have a high school diploma or G.E.D.
Pass a drug and alcohol screening test
Have a valid driver's license
For the Plumbers and Pipefitters Local 94 JATC Apprenticeship program, it is mandatory that you apply for the program by picking up an in-person application.
The applications can be picked up on the designated dates below. Applications will be available from 12:00 to 4:00 PM at the Local 94 Training Center (3825 13th St. SW) on:
October 12, 2022
November 9, 2022
December 14, 2022
Once applications have been completed within a two week window, they must be submitted in-person on Monday, Wednesday or Thursday from 2:00 – 6:00 PM at Local 94 Training Center along with:
Copy of your birth certificate
Valid driver's license
Copy of high school diploma or G.E.D.
Sealed high school transcripts
Proof of citizenship or legal alien status
Full Application Guidelines
After your completed application is received and all documents are reviewed, you will be notified of a mandatory standardized third-party test. The cost of the test is $30, please provide the exact cash amount.
If you have any questions or need more information about the application process, please contact the Training Center at 330-477-7300.
United Association Courses
The UA has approximately 350 schools in the US and Canada, in addition to other facilities that our apprenticeship programs use, such as community colleges and technical schools. One of these schools is right here in Canton, Ohio at the UA Local 94 facility.
Over 200 million dollars are spent each year in the training of apprentices and journeymen. The International Pipe Trades Joint Training Committee, the educational development entity of the UA, has written and published more than 100 training manuals and has developed the UA training programs.
Industry-Recognized Certifications
Once you have completed your five-year apprenticeship, you will become a full-fledged journeyman. However, your education – and our investment in it – doesn't end there. Certification is the wave of the future in the piping industry.
As the work in the plumbing and pipefitting industry becomes increasingly complex and challenging, craftsmen must continue to educate themselves and hone their skills. In addition to the considerable prestige and knowledge that comes with being a UA journeyman through our apprenticeship program, UA members can pursue certification in a variety of specialized areas.
Learn More About UA Certification Programs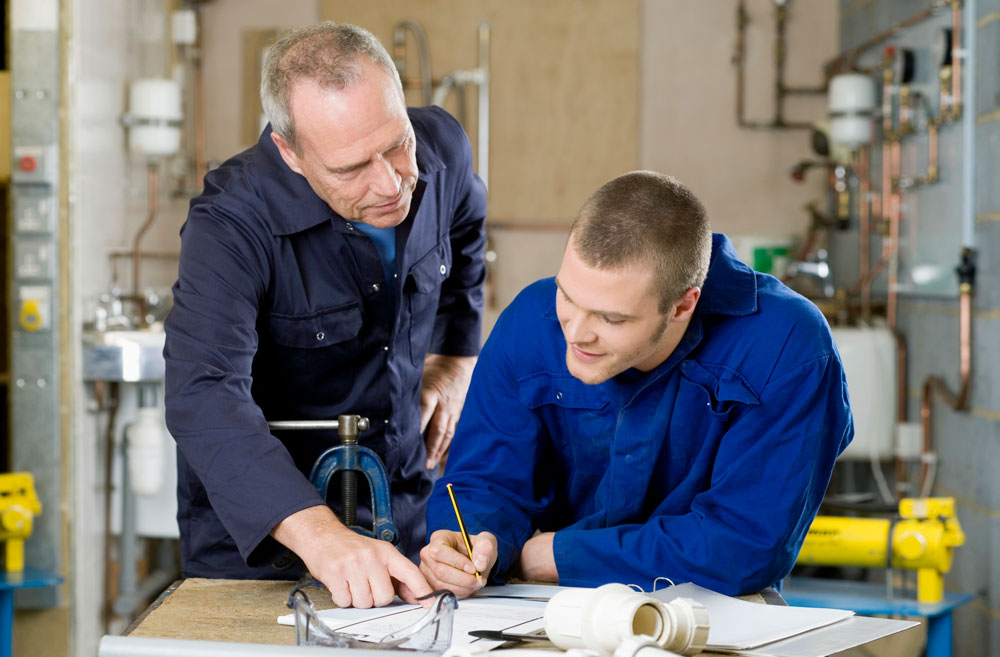 Take the Evaluation
Download the physical form below and send by mail, or deliver in person to:
3919 13th St SW
Canton, OH 44710